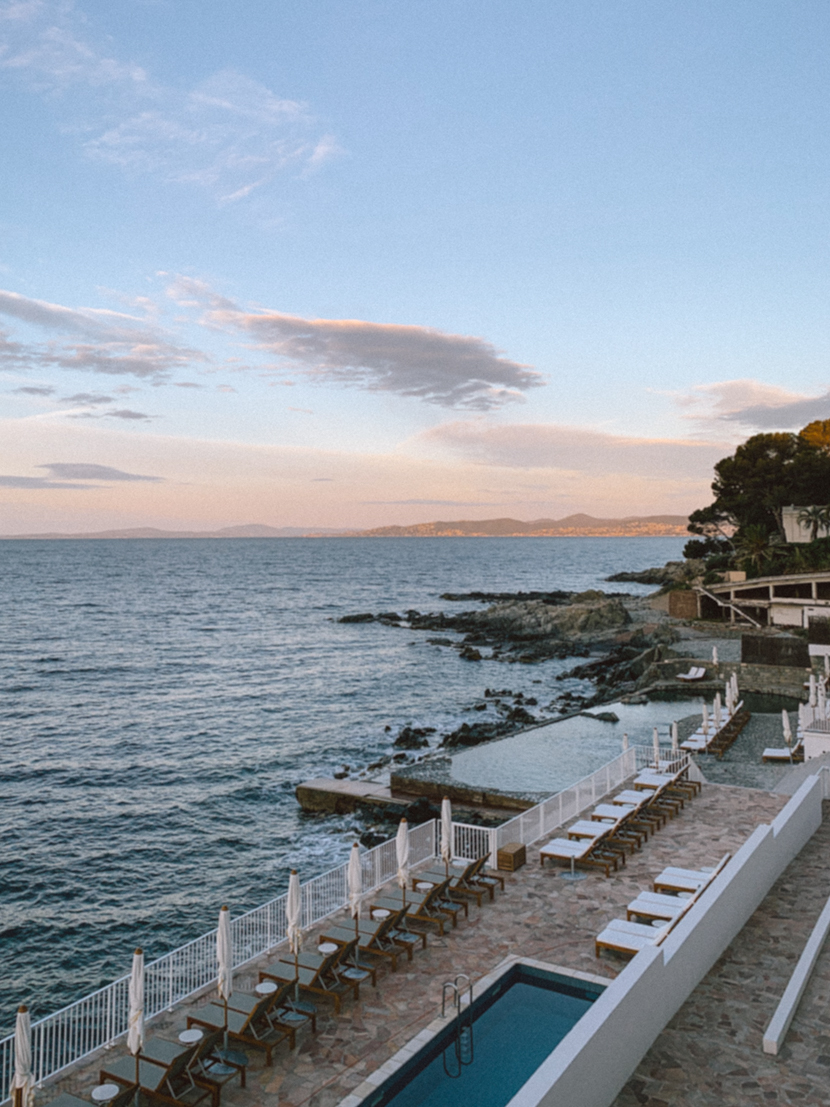 Les Roches Rouges
There is probably no hotel that embodies the flair of the Côte d'Azur as much as the Hotel Les Roches Rouges. What makes this hotel so special, why does everyone love it on Instagram and is it really worth € 500 per night?
It definitely is the design that makes Les Roches Rouges such an exceptional hotel. By that I do not mean the simple white, almost unspectacular facade, but above all the interior design and the area on which the hotel is located.
From the street you can only see the top floor with the reception. Hotel life is three floors down on the large terrace and at the two pools. These are only visible from the sea, and if no confused hiker passes by, the atmosphere is very intimate and relaxed.
In addition to the many design classics in the hotel and on the terrace the seawater pool stands out above all. It looks as if it was carved into the rocks of the Esterel massive, where Les Roches Rouges is located, and fits perfectly into the coast.
The hotel has two restaurants and a beach bar, where you can order lunch and eat by the pool. The Michelin starred "La Terrasse" had not opened yet while we were there. But the à la carte restaurant with authentic dishes from Provence, where breakfast is served as well, it is very relaxed and casual.
You will probably be disappointed if you expect a service like in other hotels of that price range. The waiters are very congenial and cool, but unfortunately not very attentive and we sometimes had the feeling that they were overchallenged with a simple request for bread. And we've had more attentive room services in other hotels. Maybe it was due to the fact that the hotel opened only a day before our visit and so the team was not well organized yet.
500 euros per night for the most "simple" sea view room is a lot. The rooms are definitely not "simple", but very stylish and spacious. This applies to the entire hotel, because the design is thought through to the last detail and fits in perfectly with this place. Everything is coherent and authentic, the view is amazing and the azure blue water is beautiful. Les Roches Rouges is luxurious in a subtle way without showing off.
Location: Les Roches Rouges is located in southern France near Saint-Raphaël in the Esterel massive. The best way to get there is by plane to Nice and then by rental car along the coast through Antibes and Cannes. There is also a train to Saint-Raphaël.